Escaleras y Mirador Vela. External Reference presents a new architecture and urban planning project on the Barceloneta seafront.
•
01.07.2022
•
Project
•
External Reference
Escaleras y Mirador Vela. External Reference presents a new architecture and urban planning project on the Barceloneta seafront.
"Escaleras y Mirador Vela" is the new project of the architecture firm External Reference, led by architect Carmelo Zappulla, which for the first time generates a connection between the Passeig del Mare Nostrum and the Plaça de la Rosa dels Vents, on the beachfront of La Barceloneta.
The project interprets a special port context: the connection develops a new relationship with the W Hotel, where the strong tides of the sea coexists with a unique concentration of people and users who carry out all kinds of outdoor and leisure activities on a daily basis.
According to the requirements of Nova Bocana, the commissioner of the project, it was necessary to design a solution that eliminated the existing cul de sac and connect the two existing different levels using the existing seawall as support. This provided an opportunity to generate a new façade for the Passeig del Mare Nostrum.
"This project on one hand is inevitable, and on the other, very representative. The culmination of Passeig del Mare Nostrum with a walkable façade is proposed as a fundamental element that reconfigures the city's relationship with the sea."

Carmelo Zappulla, architect founder of External Reference.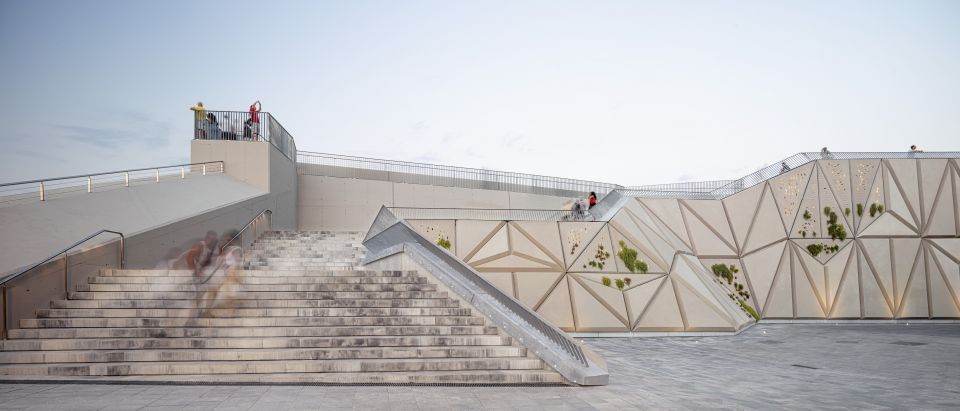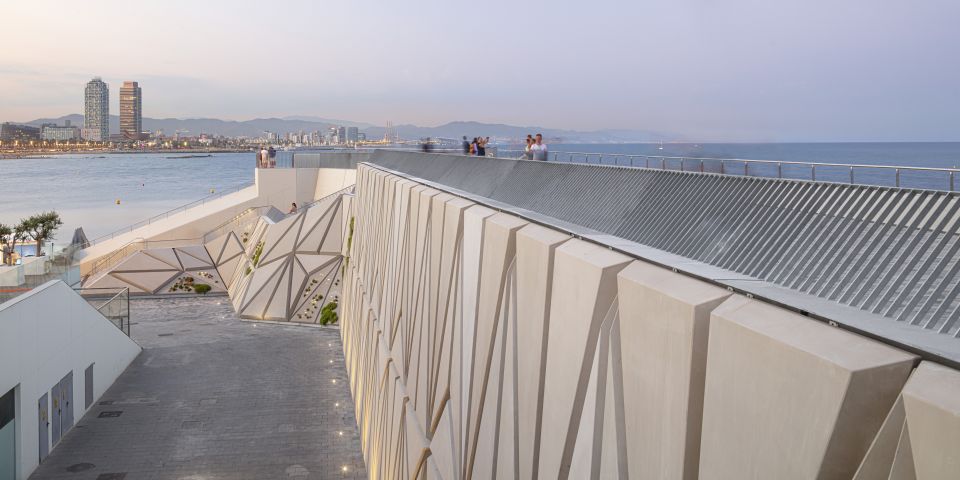 The design was conceived as a tectonic element that derives its morphology from the formations of the salt crystals that grow in the small Mediterranean water reservoirs, captured by the irregularities and accidents of the marine rocks. Based on this phenomenon, the staircase "crystallizes" in the existing nook at the intersection of the promenade of the Barcelona coastline with the monumental seawall that protects it from the rush of the Mediterranean tides.
From a compositional point of view, Escaleras y Mirador Vela is developed as a sculpture between two walls, the existing seawall and the new façade that opens up to the promenade, inviting the public to experience a new urban space that projects towards the sea and generates a balcony overlooking the Mediterranean and the city.
The new promenade is composed by a staircase and elevated walkway of a prefabricated concrete structure. The new façade it creates toward the seafront promenade is cladded with triangular concrete bio-receptive panels that incorporates the use of low-maintenance vegetation and a lighting system.
The panels were optimised utilizing parametric strategies and designed in a way that encourages the surface growth of native plants (Lobularia Maritima, Lampranthus Spectabilis and Drosanthemum Floribundum). In addition, it integrates a fiber optic lighting system that makes its surface vibrate at sunset.
"We have designed a unique place for the city, a space where you can not only appreciate looking towards the horizon of the sea but where you can discover new viewpoints from the sea to Barcelona, the great protagonist of this project. We believe that the path will act as a catalyst that transforms the dynamics between the square and the promenade which, although they are adjacent spaces, until now had separate activities. Now, they are dialogic parts of a chain of discoveries and experiences that pass through Escaleras y Mirador Vela"

Carmelo Zappulla