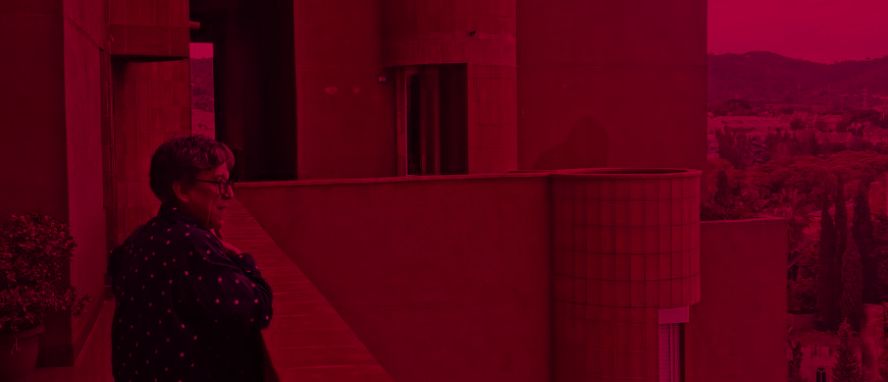 Fundació Mies van der Rohe promotes an exhibition on the thinking and career of the architect and composer Anna Bofill Levi
•
29.12.2022
•
Exhibition
•
Fundació Mies van der Rohe
Fundació Mies van der Rohe promotes an exhibition on the thinking and career of the architect and composer Anna Bofill Levi
Fundació Mies van der Rohe presented, at a public event in the Mies van der Rohe Pavilion, the research project "Anna Bofill Levi. La arquitectura como contracanto: 1977-1996", winner of the 3rd Lilly Reich Grant for Equality in Architecture.
The authors of the proposal, Ma. Elia Gutiérrez Mozo, José Parra Martínez, Ana Gilsanz Díaz and Joaquín Arnau Amo, explained the background, objectives and methodology of the research project that will be developed during 2023 and presented in 2024.
Their research will allow the Fundació Mies van der Rohe to promote an exhibition that reflects Anna Bofill Levi's intersectional thinking and trajectory in the fields of architecture, music, mathematics, writing and participatory activism. The exhibition will make visible the richness and depth of creative work when it draws from more than one discipline, and the paradox that leaves it on the fringes of the often more superficial mainstream.
The event was attended by Anna Bofill Levi, Zaida Muxí, who was a member of the jury together with Aaron Betsky and Débora Domingo Calabuig; and Anna Ramos, director of the Fundació Mies van der Rohe, promoter of this scholarship that has the objective of supporting the study, dissemination and visibility of contributions to architecture that have been discriminated against, relegated and forgotten, and which in this third edition has for the first time placed the focus beyond Lilly Reich herself.
"The fact that the Fundació Mies van der Rohe has created the Lilly Reich Scholarship is wonderful. And the fact that there are now women occupying certain places in society seems really important to me because this means that things are changing little by little. We lived in a patriarchal society that was intolerable and unbearable for women, and there is still a long way to go. I have felt like a second sex since I was a child, and it gave birth to a desire for knowledge that has always driven me."

Anna Bofill Levi