"Untitled" (Loverboy) – Felix Gonzalez-Torres
•
24.03.2021
•
Installation
•
Fundació Mies van der Rohe
"Untitled" (Loverboy) – Felix Gonzalez-Torres
Fundació Mies van der Rohe presents, from 25 March to 11 April 2021, "Untitled" (Loverboy) by Felix Gonzalez-Torres, a site-specific piece at the Mies van der Rohe Pavilion shown as part of the retrospective exhibition at MACBA of the work Politics of Relationship by Felix Gonzalez-Torres.
The intentionally cryptic subtlety of the work now presented in the Pavilion underlines the impact of the materialities of each surface. The curtain of dense, heavy, falling colour, which together with the onyx and the carpet adds the third colour of the German flag, becomes a very light, undulating, light blue tulle that flutters beyond the end of the window.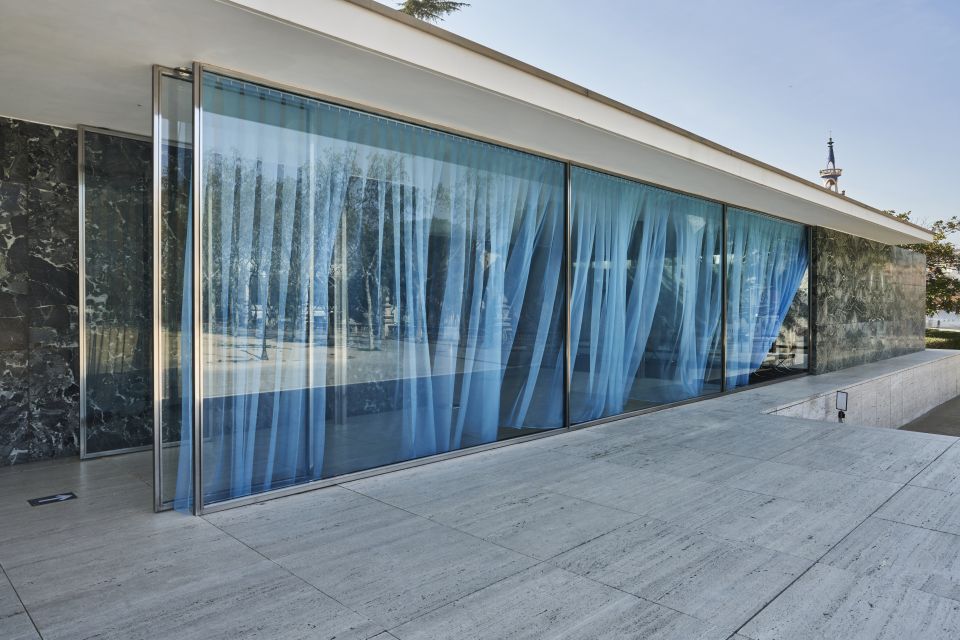 In the work of Gonzalez-Torres - American, born in Guáimaro (Cuba) in 1957 and deceased in Miami (United States) in 1996 - always in transit between contexts and identities, blue often represents love or beauty, but also fear. The fact of developing a subtle language about the queer condition, which prioritizes romanticism and reformulates the language of minimalism and conceptualism as vehicles for affective content, is one of his main contributions to his aesthetic canon.
"The presentation of "Untitled" (Loverboy) is part of the collaborations with teams and institutions in the city of Barcelona. A blue curtain replaces the red one and issues of memory, authority, freedom and national identity are emphasised; the Pavilion was commissioned by the Weimar Republic in the interwar period and while Spain is under monarchy and dictatorship. A blue curtain that in each presentation is produced anew and gets its own registration number, giving a continuous life to the work. An absolutely different and highly recommendable experience in the Pavilion".

Ivan Blasi, curator of the programmes of Fundació Mies van der Rohe
"Untitled" (Loverboy) is a collaboration between MACBA and Fundació Mies van der Rohe in the framework of the exhibition "Felix Gonzalez-Torres. Politics of Relation".
→ entrance to either institution allows free access to the other one between 25 March and 11 April
Dates: From 25 March until 11 April 2021
Place: Mies van der Rohe Pavilion (Av. Francesc Ferrer i Guàrdia, 7 Barcelona)
Opening hours: Monday through Sunday from 10h-20h